4 Reasons Twitter is a Powerful Marketing Tool For Your Cannabis Business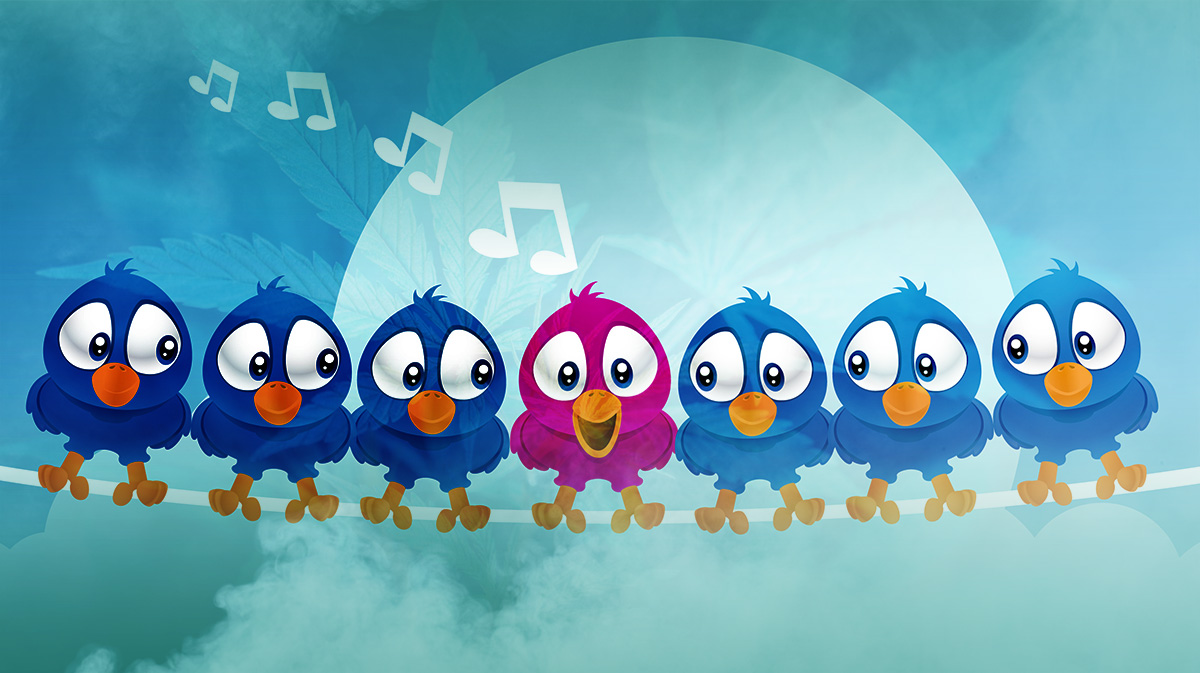 "Do you know the latest, trendiest, social media platform that you absolutely need to be using right this instance or you're going to get left behind by your more tech savvy competitors?"
A lot of marketing blog posts start off that way, don't they?
And yes, there are a lot of new, exciting, innovative social media platforms worth checking out.
But you shouldn't ditch what's been tried, tested, and proven successful just because it's older. If it's not broke, don't fix it!
Twitter is a perfect example of this. The social media platform is twelve years old, which makes it fairly ancient in the world of digital marketing.
But don't let its age fool you. With close to 340 million global users, Twitter is one of the largest social media platforms in the world. And it offers you a relatively quick way to build connections with your target audience.
Here are four reasons why Twitter is a powerful marketing tool for your cannabis business.
1. You Can Use Twitter to Develop Your Brand's Personality and Voice
Hopefully, your company already has a distinct brand personality and voice that comes through on your website and various marketing channels.
Twitter gives you yet another channel to develop that personality and voice.
If you're new to Twitter, you should be posting somewhere between five to fifteen times a day.
That's five to fifteen opportunities a day to share your unique voice and perspective with your audience.
And because Twitter is free to use, you don't have to worry about "getting the most bang for your buck" with your tweets.
You also don't need to agonize for hours making sure you get the wording of your tweets just right. You can tweet, see how your audience responds, and assess what types of tweets work best for you.
2. You Can Initiate Conversations With Your Target Audience
Take things a step further by engaging with your individual audience members one-on-one, having impromptu conversations with them in your brand voice. This is also a great way to answer customer service-related questions.
By doing this, you can a foster a better relationship with your audience and impress upon them that your brand voice is both consistent and dependable.
3. You Can Use Twitter For Marketing Research
You can get a lot more out of Twitter than just posting tweets and hoping people find you and start following you.
You can use Twitter to find your audience, see what people are saying about your brand, and observe how people are engaging with your competitors.
Figure out what keywords or hashtags your audience is using (probably things along the lines of #edibles, #420life, #cannabiscommunity, etc.)
Type that word into the search bar, and you'll be able to see which users are participating in these conversations. Be sure to save that particular search so you can keep checking in on these ongoing conversations.
Use this same feature, using your own brand name as the search query, to see who's talking about you on Twitter.
Do the same thing for your competitors' brand names so you can keep tabs on their influence in the Twittersphere!
4. You Can Use Twitter to Promote Your Content
People follow brands on Twitter and other sites for social media marketing with the expectation that they're going to get something valuable in return: content.
It should go without saying that if you have a Twitter account, you should be using it to share original content that you've created: videos, images, blog posts, podcast episodes, etc.
But you also want to share curated content – content that you find on other sites that you think your audience might find useful.
Here's what's great about curated content:
You can use/leverage it to help your audience, and you didn't even have to create it yourself!
It demonstrates that you're not all about trying to promote your own stuff – that you're genuinely interested in giving your audience the best content around, even if that means sharing content created by someone else — with the exception of a direct competitor, of course!
Ready to take your company's Twitter game to the next level? We can help! Give us a call at (702)-600-9687 or email us at hello@hazymarketing.com for a free consultation!
https://hazymarketing.com/wp-content/uploads/2018/12/Twitter-as-a-powerful-marketing-tool.jpg
673
1200
supportadmin@onceinteractive.com
http://hazymarketing.com/wp-content/uploads/2017/08/logo.png
supportadmin@onceinteractive.com
2018-12-11 09:26:17
2020-09-03 16:05:02
4 Reasons Twitter is a Powerful Marketing Tool For Your Cannabis Business